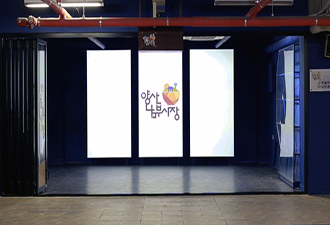 Yangsan-nambu Market

Interactive Installation, 2017

The work is installed in the parking lot of the Nambu market of the traditional market representing Yangsan City.

Usually there is a market scene, and when people come from both sides, random fruits and vegetables come out. It is an interactive work that pops up in polygons when fruits and vegetables from both ends hit each other at some point.


It expresses the characteristics of a traditional market where people meet personally. I am participated as an interactive artist. This project has been done with the media art team, 2Hour 30Minute.

Beam projector, video, screen, computer, Processing, Custom Electronics

Exhibition
- Media Zone, Yangsan-nambu market, Yangsan, Korea, Feb. 1, 2017.