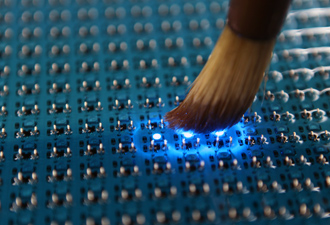 Water Lights, 4th edition
Interactive installation, 2012

I made the fourth Water Lights developed from
Water Lights Painting since 2006. This work is an interactive installation with lights encourages viewers to create various images with water on its surface. These gestures create changing patterns and images by illuminating LEDs whose brightness is controlled by each sensor in the painting's surface. The public contribute to this piece by painting with the wet brush or modifying the image by drying portions of it.


Water Lights 4th Ed. consists of LEDs(5400 pieces), transistors, and resistors for the lighting panel to interact with people.

* Patent Registration, LED Display Device, No. 10_1267753, Korea, 2013

Exhibition
- Nano Korea 2012, KICET Art Gallery, Coex, Korea, Aug. 16 - 18, 2012.