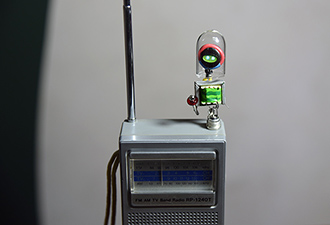 Yap!

interactive Object, 2015

Yap! is connected to the earphone jack of the smart-phone, and it is a mobile emotional accessory that expresses the sound signal from the earphone jack with light, sound and movement. Mini-sized models, such as the ear caps for smart-phones, amplify the fine sound signals from the earphone jacks without additional batteries or a driving app, so they can enjoy the sound with pleasant sound and dancing.


I think a work that could convey a little humor and joy to the modern people who look at the smart-phone every day. Emotional sculptures are produced in various character shapes that stimulate imagination aiming at wit, and now smartphones are used as a means of expressing their personality beyond functions. Instead of looking at the screen of a smartphone, it gives a new experience of listening to the song of a favorite singer through emotional sculptures and watching the actual light move according to the sound of the game.

- Custom Electronics, LED, speaker, radio, smart phone / 20 x 14 x 45mm

* This work was supported by Art Center Nabi.
* Patent Registration, Earphone Accessories with Sound, No. 10_1750091, Korea, 2017

Exhibition
- Nabi Hackathon 2015, Art Center Nabi, Seoul, Korea, Aug. 10 - 12, 2015.