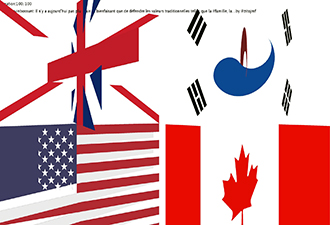 Nation on Border
Interactive Media, 2018

The flag painted by hand on one wall of the exhibition hall expresses the clear boundaries between countries in the real world that do not change.

On the side wall, a message in which #nation is entered as a search keyword on Twitter is output in real time, and at the same time, an image in which national flags symbolizing the country are repeatedly disassembled is projected and mapped.


Through programming, the image that is mapped to the wall is automatically tweeted to Twitter every minute.
The audience reads the QR code on the wall of the exhibition hall with their smartphones, goes to the Twitter exhibition page, checks the image currently being displayed in the exhibition space, and thinks about the boundaries of different countries in both reality and cyberspace.

Exhibition
- Moin Gallery, Seoul, Korea, Apr. 25 - May 4. 2019.