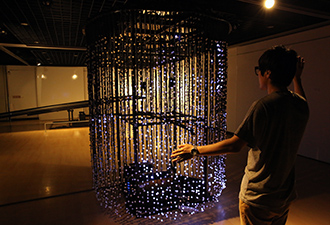 I and You

interactive installation, 2013

I and You is a column-shaped interactive installation with LED lights. Two video cameras in the piece capture the subject or viewer around of it. Then, the brightness of 4800 LEDs is changed varying in the appropriate amount of light to reflect viewer's movements on the surface of the work. I and You encourages people to interact with each other by using their light silhouette on its surface and explores the physical and virtual spaces.

4800 LEDs, Video Camera, Custom Electronics, Computer, Acrylic, Aluminum Frame / 2 x 2 x 2.6m

Exhibition
- Natural Pixel, Gallery Mark, Seoul, Korea, Aug. 8 ~ 29, 2013.
- Across_Media Art Group Exhibition, Hongik Museum of Art, Seoul, Korea, July. 5 ~ 21, 2013.