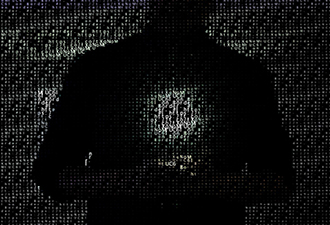 I on Border
Interactive Media, 2019

The camera connected to the computer displays the exhibition space in front of the camera and the audience as a real-time video image on the monitor.

The pixels in the image that change in real time are made up of messages that enter #i as a search keyword on Twitter. Characters left to express myself in cyberspace are used as elements that make up the real world, and the size and color of the characters change in real time according to the movement of the audience.

The image displayed on the monitor screen through programming is automatically tweeted every minute. The audience reads the QR code on the wall of the exhibition hall with their smartphone and goes to the Twitter exhibition page to check the current exhibition space and the appearance of the audience, and thinks about the boundary between different places in reality and cyber space.

Exhibition
- Moin Gallery, Seoul, Korea, Apr. 25 - May 4. 2019.