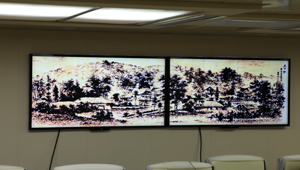 Yulgok Landscape

The Wardroom of the Yulgok YiYi Aegis Battleship,
Korean Navy, 2010, August 23 ~.


Generative New Media installation.
work with Romy Achituv,



Yulgok Landscape is a generative new media artwork. The piece employs a patriotic statement by Yulgok and the name of the ship with the Korean and Chinese characters to construct a series of images: Shin Saimdang's Chochungdo, the old image of Ojukhun, and a variety of Korean landscapes. The characters slowly fall, accumulating and filling the screen. As they accrue their individuality is gradually absorbed into the images they construct. Once the image is complete it begins to disintegrate and to deconstruct the scene.