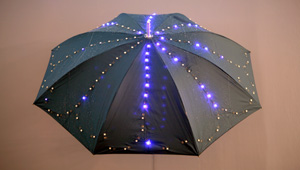 My Umbrella Likes the Rain
MFA thesis exhibition

Gallery 2, 847 West Jackson Avenue, Chicago, USA, May 4 - May 18, 2007.

My Umbrella Likes the Rain is a rain-activated LED umbrella for public performance on the streets. It has 144 LEDs that are arranged in curvilinear patterns on the surface of the umbrella. The lights are activated by the rain and regulated not only by its unpredictable sequence, but also by its movement. By noticing this umbrella on a rainy day, the viewer will have an unexpected experience in an otherwise mundane situation.

On a rainy day, this work would contrast with the digital environment of signs and advertising found on a main street in a commercial district such as Time Square in New York. Most of the signs in modern cities are operated at regular intervals and with preprogrammed sequences. Through this piece, I hope to suggest that by using natural sequences such as rain, we can expand and humanize existing technological systems that can be reflected in human nature.

I like to bring the project on people's daily life experimentally. The performance will be held on rainy day and everybody could be participating in this project by holding the rain-activated LED umbrella. There are no specific days and times for it. This work starts on rainy day when someone raises the umbrella and ends it depends on the weather condition.