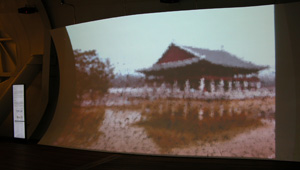 Landscape
Seoul-font Gallery


J-bug Observatory, Ttukseom Park, Seoul, Korea, 2010, April 10 ~.


Generative New Media installation.
work with Romy Achituv,

The intimate relationship between the Korean people and Hangul is the inspiration for the Landscape installation. As fundamental to the Korean collective identity as are family names to personal identity, Hangul defines and constructs the Korean cultural and social landscape. The scenes of Seoul in the Landscape installation are dynamically constructed solely from Korean surnames with Seoul Hangang and Namsan font. As the characters like the falling water fill the screen their individuality is momentarily absorbed into the image they assemble, only to appear again as the scene deconstructs.